Be At the Top of Customer Mind-Share with Mobile Apps
Our Solutions Are Mobile Ready
Your customers can access your services 24x7 from their mobile phones. Be the ONE to grab your customers' attention when you are at their fingertips.
---
Instant Sign Up
Grow your member base rapidly with quick-and-easy member on-boarding on the mobile. Customers sign up with just their mobile or email and they can start enjoying the benefits of your program.

Eliminate the hassle of form-filling and card printing. Make it all fast and easy for your customers and they will love you for it.
---
Instant Information
Members can check for the reward balance & expiry, track redemption requests and get informed on latest promotions all with a few clicks on their mobile.

With unparalleled information access and interaction capabilities, your customers are glued to you for life.
---
Instant Redemption
Instantly send amazing redemption offers after your customers have just done a purchase. With offers that are too good to refuse, you make a close for the next sale immediately after the current sale is just completed.
---
Fast Checkout Process In-Store
Our Mobile Apps work well with your Point-of-Sales with QR Code and Barcode technology.
---
Push Notification Alerts
Send promotions and notifications to your members' mobile apps. Customer response and acceptance is better when information is relevant and they can just a click on the message and to get more information immediately.
---
Feature-Rich & Fast
---
Mobile Sign Up

Sign Up Offers

Mobile Coupons

Mobile Redemption

eWallet
Jumpstart your mobile app strategy with our Mobile App Framework
---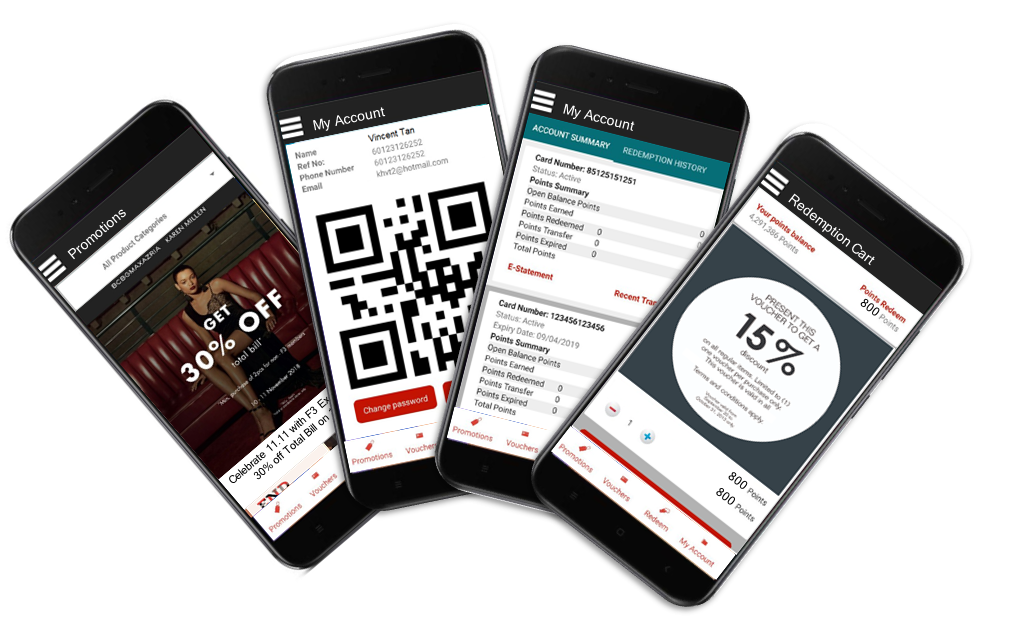 ---
The benefits of member repeat sales and cost-savings give you the immediate ROI from the investment in our technology.